History from Geoff Coward - Director of Music 1977-1983
Following my appointment as Director of Music of the Upper School of British School of Brussels A.S.B.L. in September 1977 the BSB Chorale was formed in November 1977, first appearing in the school's carol concert in Sintjans Kerk, Tervuren in December of the same year. During our six years at BSB the Chorale operated both in conjunction with school music department performances as well also promoting a number of 'stand alone' concerts – facilitated only by, and considerably enhanced through the enthusiastic participation and contribution of many gifted musicians - both professional and amateur - from the musical world of Brussels and environs.
Throughout, my wife, Maggie, acted as rehearsal accompanist – in addition to the multifarious tasks that fell to her, as and when! Choir rehearsals were also some of the earliest musical experiences of our son, Mark, who – hopefully!- slumbered in his carrycot throughout, in the adjacent Music Dept Office!
Equally noteworthy is the support of Gweneth Middleton and Val Jacob - both teachers of music at B.S.B. , also Dave Seddon and Bob Quick for their artwork in the production of posters.
The aim – as per programme notes from 1978 concerts, was 'to provide an opportunity for rehearsing and performing a wide variety of music – secular and sacred, accompanied and 'a capella' and the choir, at present comprising approximately 40 members..... welcomes pupils, parents, teachers and friends of the British School meeting to rehearse on Thursday (and subsequently 'Monday!) evenings during term time......previous choral experience is desirable, but by no means essential- neither is it necessary to be a fluent sight reader'
Listed below are the principal events from the period 1977 – 1983 as culled from surviving programmes, posters.. and as memory permits!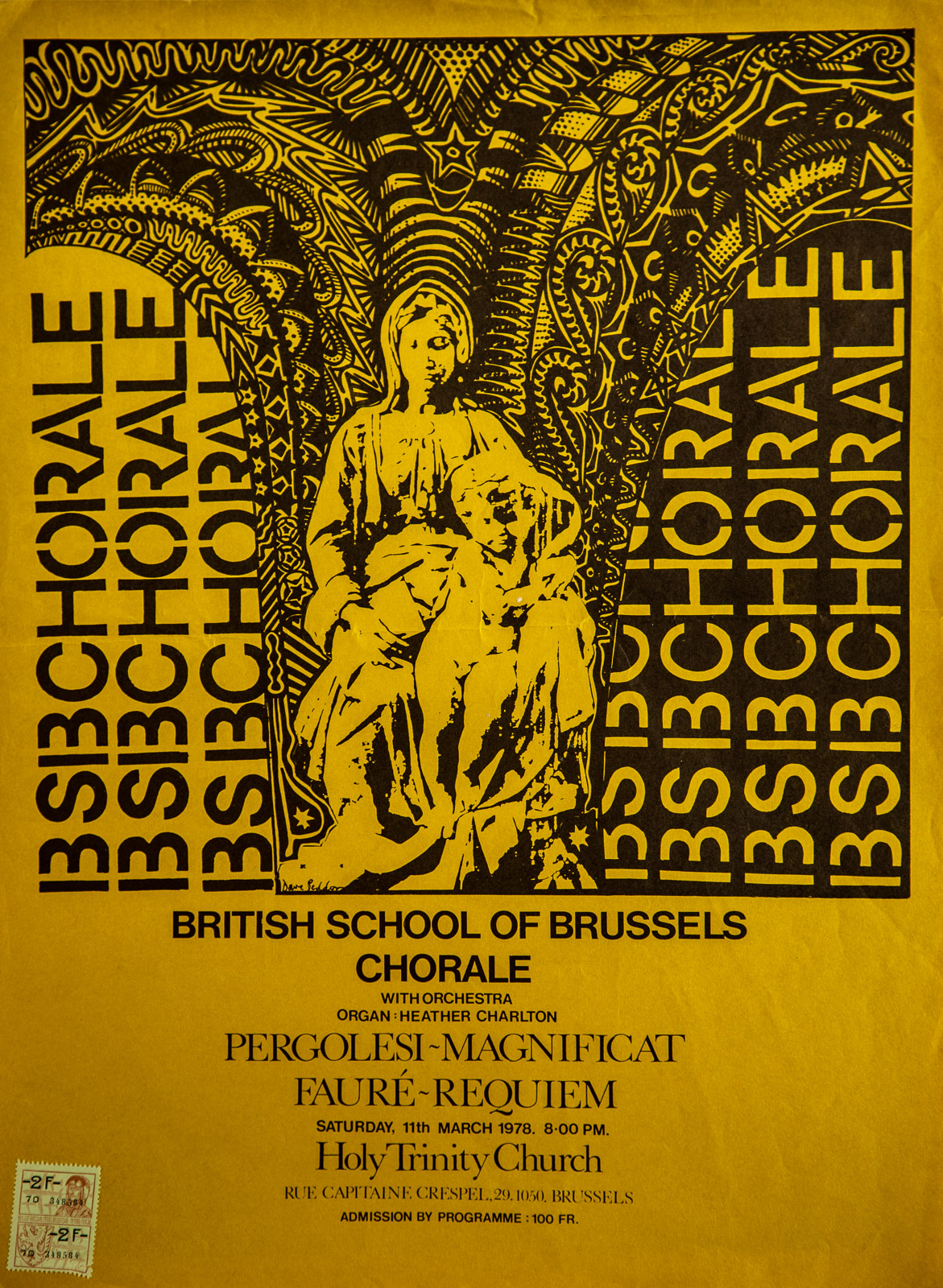 Saturday 11 March 1978 Holy Trinity Church, Brussels
Magnificat in Bb - G. B. Pergolesi
Requiem Op 48 - Gabriel Faure
Moira Speer(Soprano) Claire Senton (Soprano) Fiona Cobb (Alto) Derek Roberts (Tenor) Colin Brook ( Bass) Two Preludes and Fugues (BWV 555) J S Bach performed by Heather Charlton (Organ)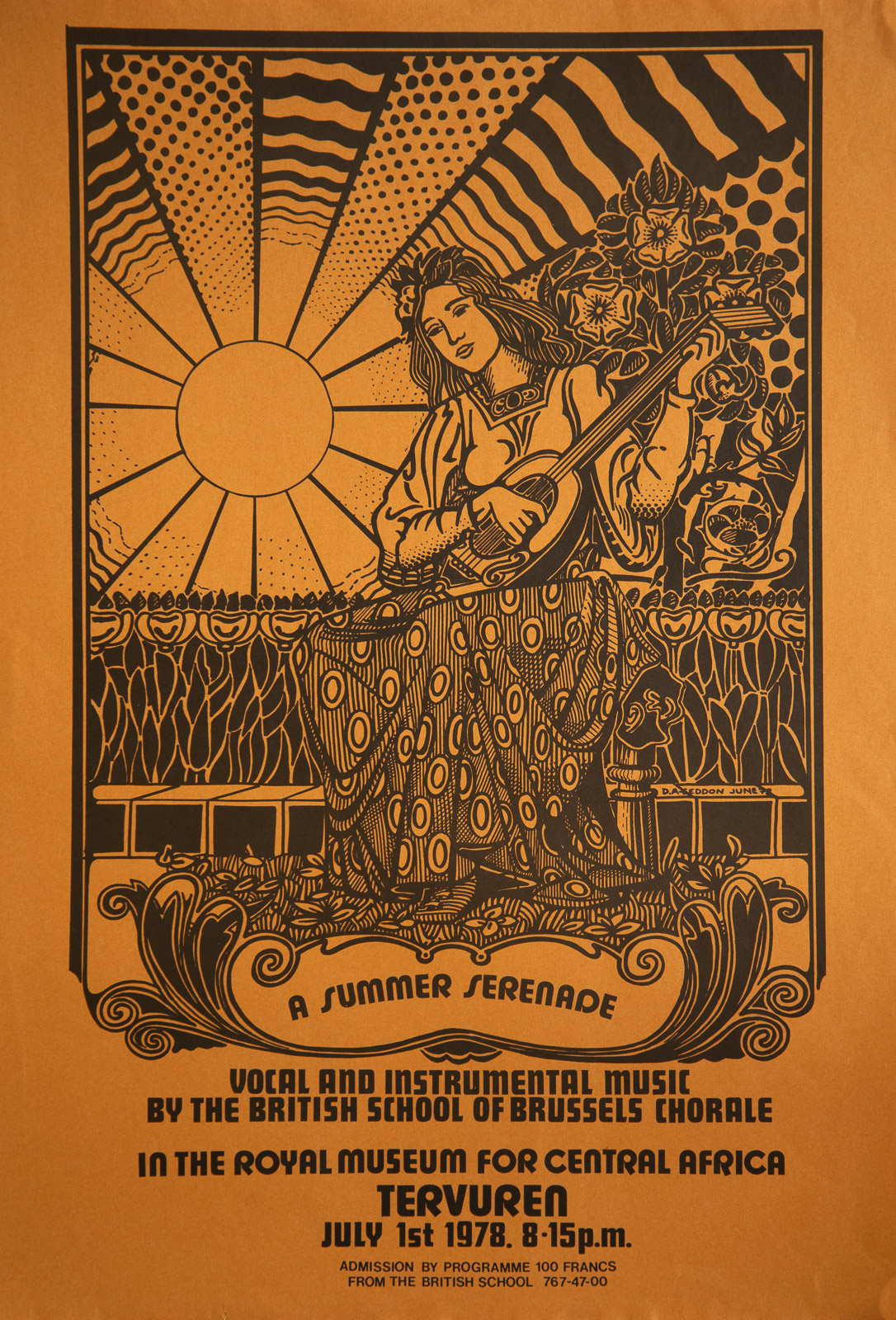 Saturday 1 July 1978  'A Summer Serenade' The Museum for Central Africa, Tervuren
Madrigals & Folk Songs arrangements – African, English ( H. Roberton/Vaughan Williams),
Yugoslav (Matyas Seiber) & Five Nursery Rhymes (Ralph Hunter)
plus Instrumental Items.... including Heather Charlton (Spinet), Manuelle Prevost (Guitar) & Dirk Van Der Moortel(Violin) - then a student... (now member of Belgian National Orchestra)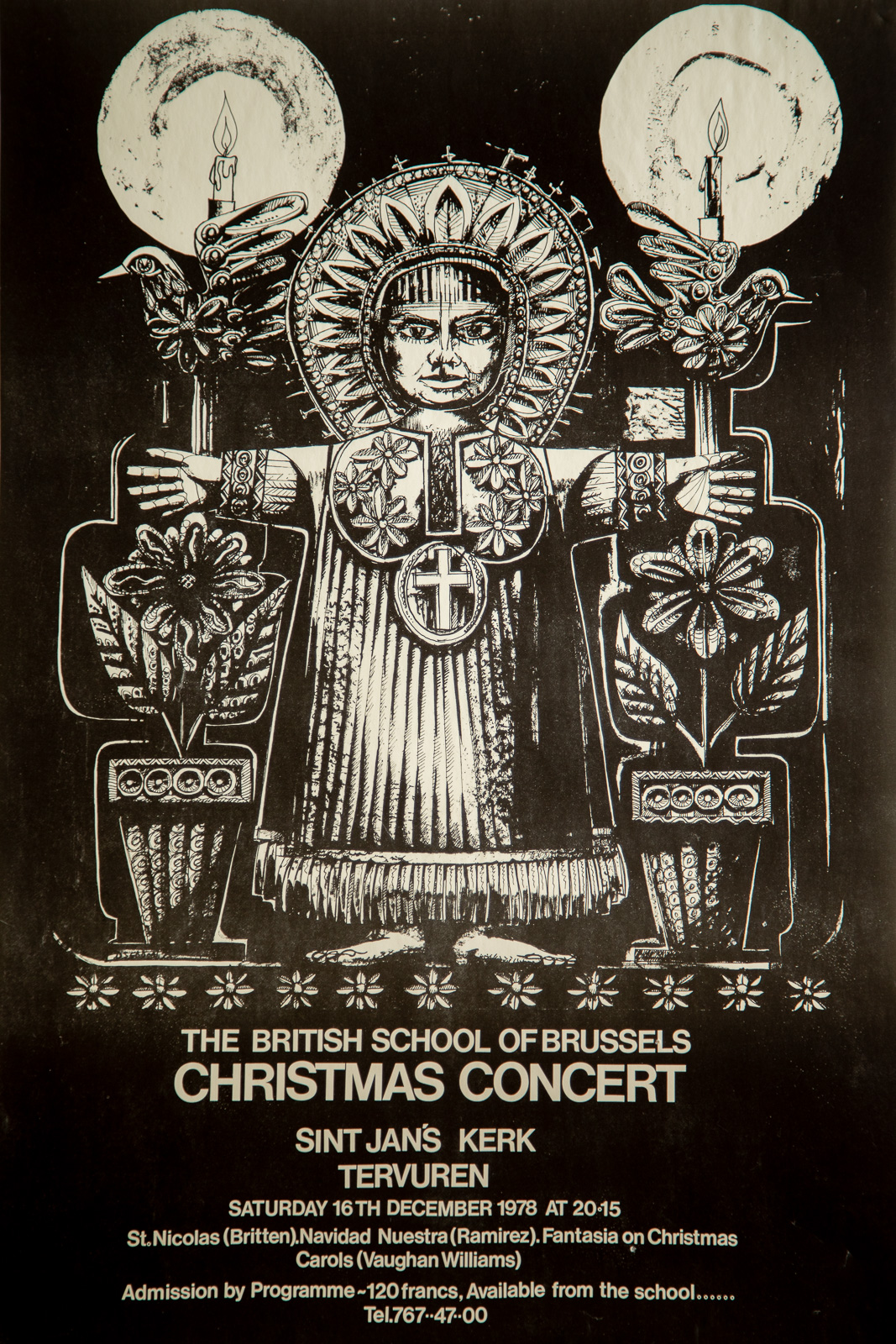 Saturday 16 December 1978 Christmas Concert Sint Janskerk, Tervuren
Fantasia on Christmas Carols - Ralph Vaughan Williams
Navidad Nuestra - Ariel Ramirez
St Nicolas - Benjamin Britten
Soloists - Gweneth Middleton, Derek Roberts, T om Cunningham, Colin Brook, Michael Speer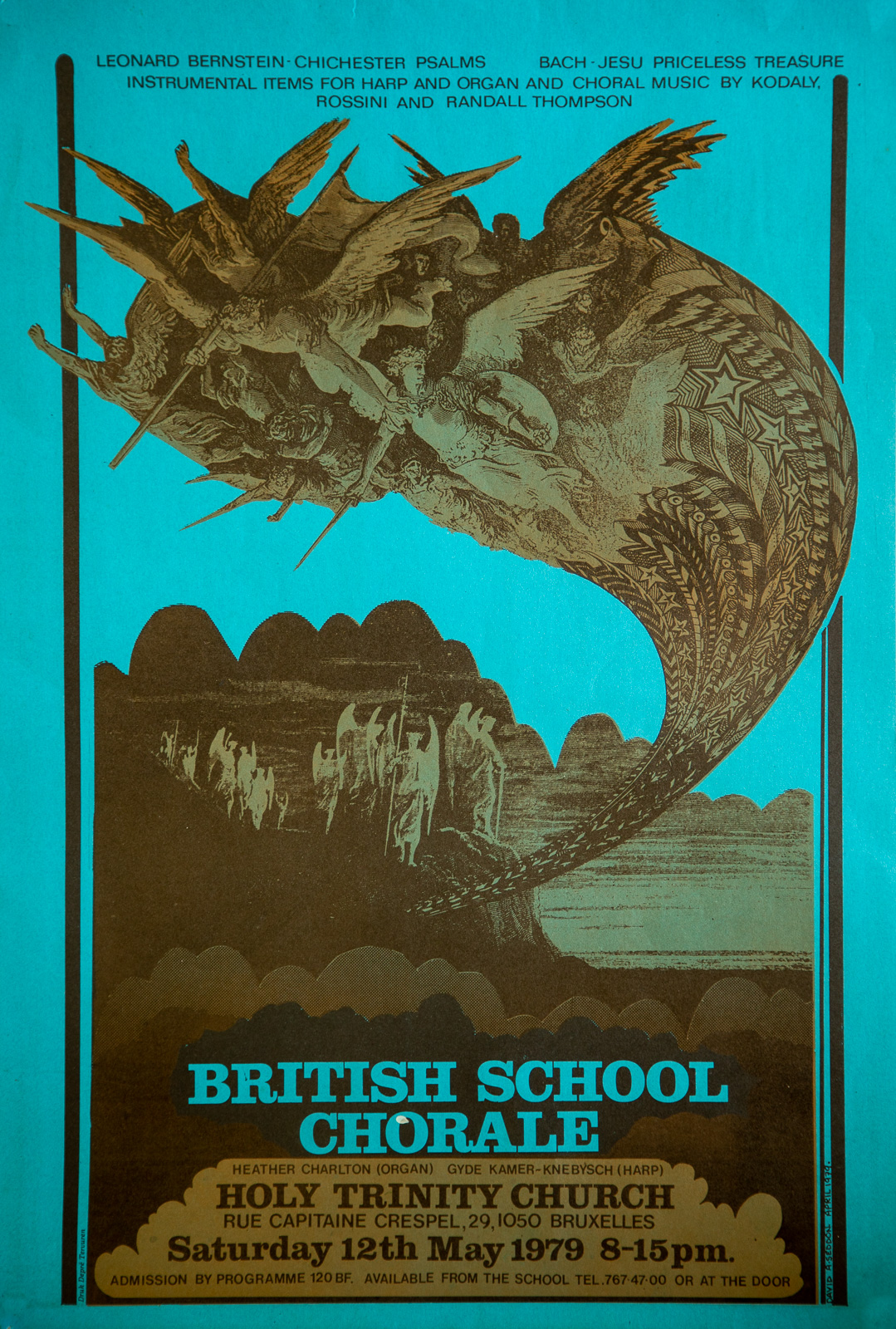 Saturday 12 May 1979 Holy Trinity Church, Brussels
Alleluia - Randall Thompson
Quando Corpus - Rossini
Jesus and the Traders - Kodaly
Jesu, Priceless Treasure - J.S. Bach
Chichester Psalms - Leonard Bernstein
Heather Charlton (Organ) Gyde Kamer Knebusch (Harp) Brian Cheetham (Counter Tenor)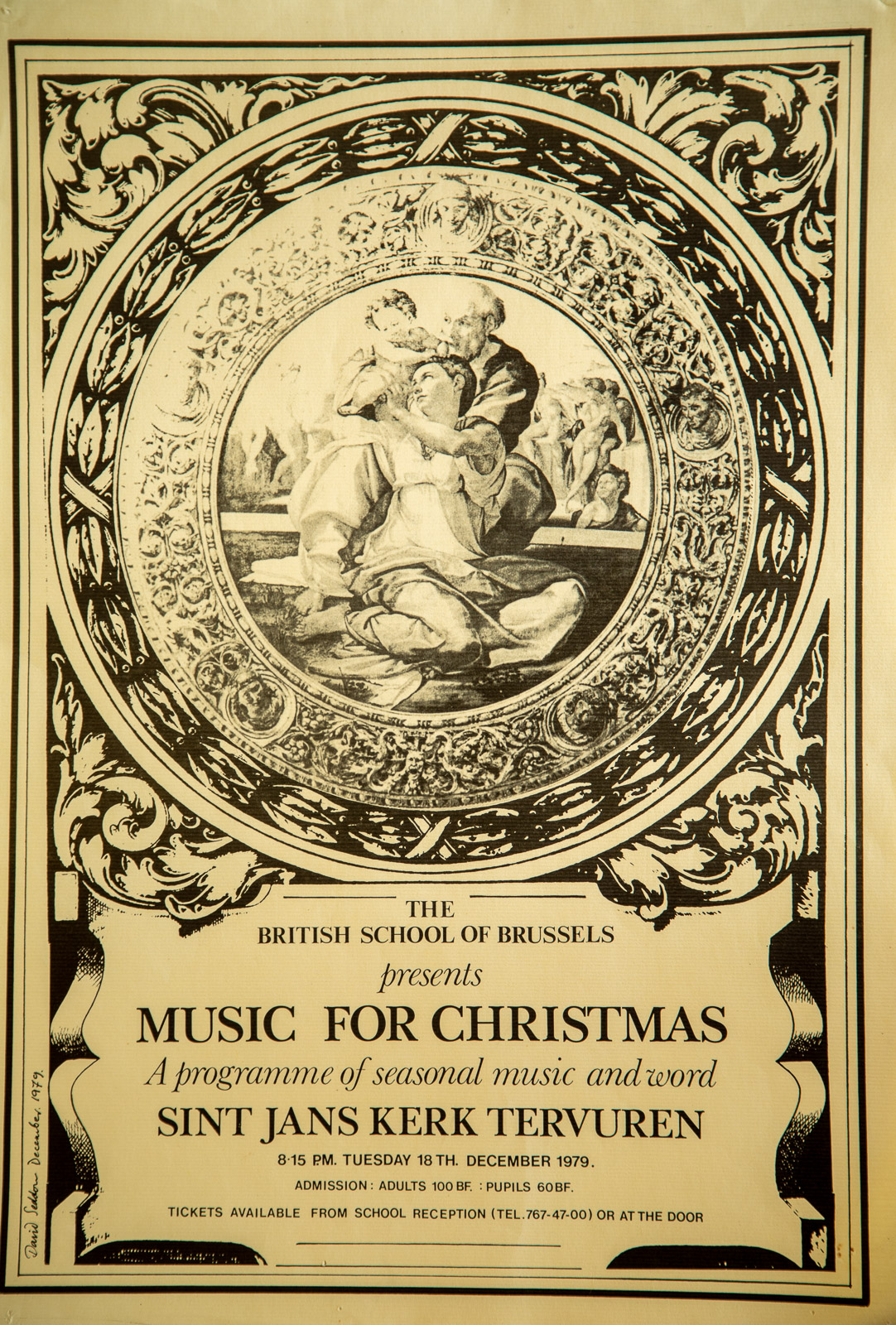 Tuesday 18 December - Music for Christmas
A programme of seasonal music and word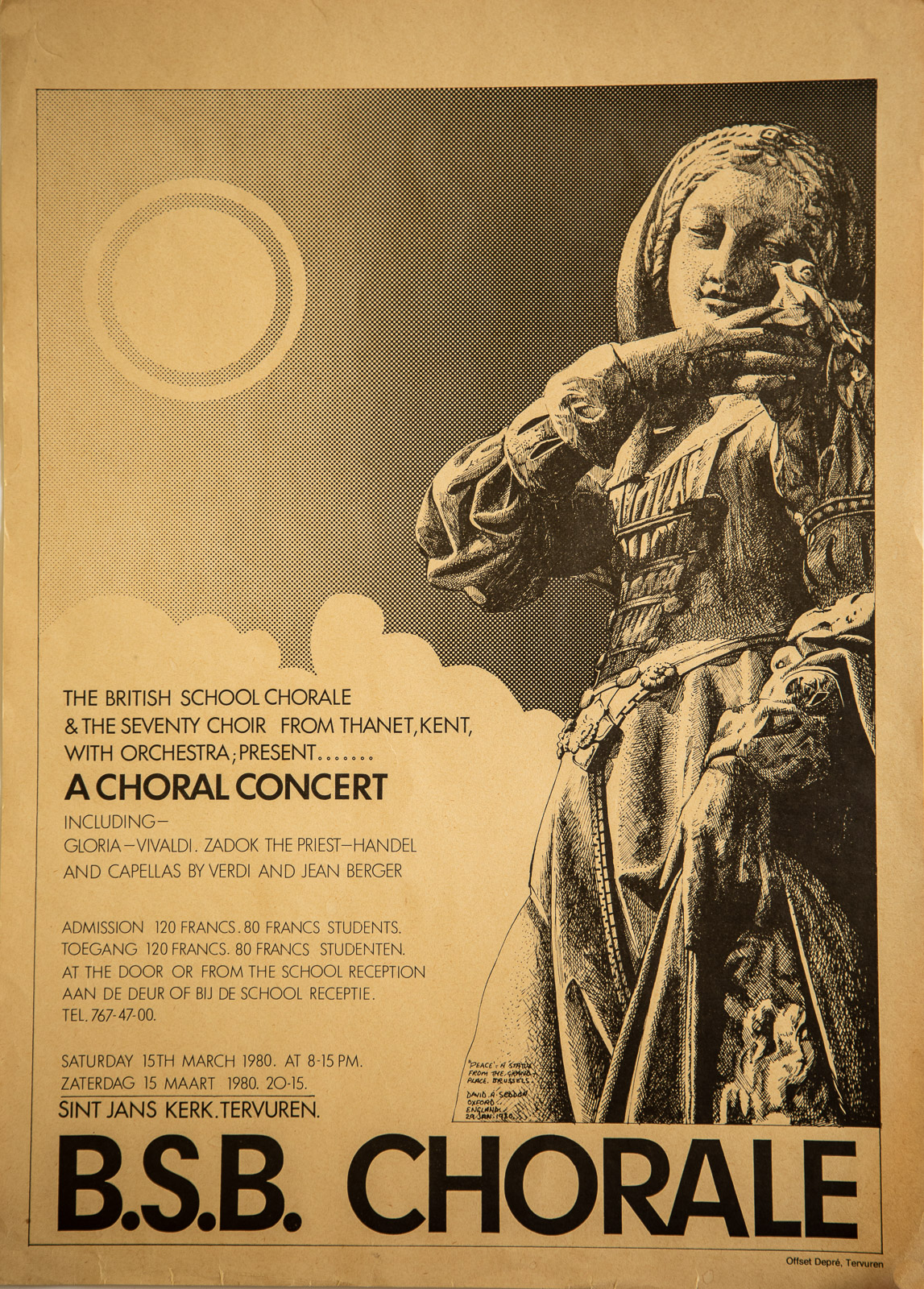 Saturday 15 March 1980 A Choral Concert Sint Janskerk, Tervuren
with The Seventy Choir from Thanet, Kent and Orchestra
including
Zadok the Priest - Handel
Cantate - Domino Pitoni
Brazilian Psalm-  Jean Berger
Ave Maria - Verdi
Gloria-  Vivaldi
Carole McBride (Soprano) Gillian Covel (Mezzo Soprano)
Tuesday 16 December 1980 Music for Christmas Sint Jans Kerk,Tervuren
in which BSB Chorale performed
A Ceremony of Carols-  Benjamin Britten
The Last Month of the Year - John Odom
BSB Chorale, Middle School Choir, Percussion, Recorders and Guitars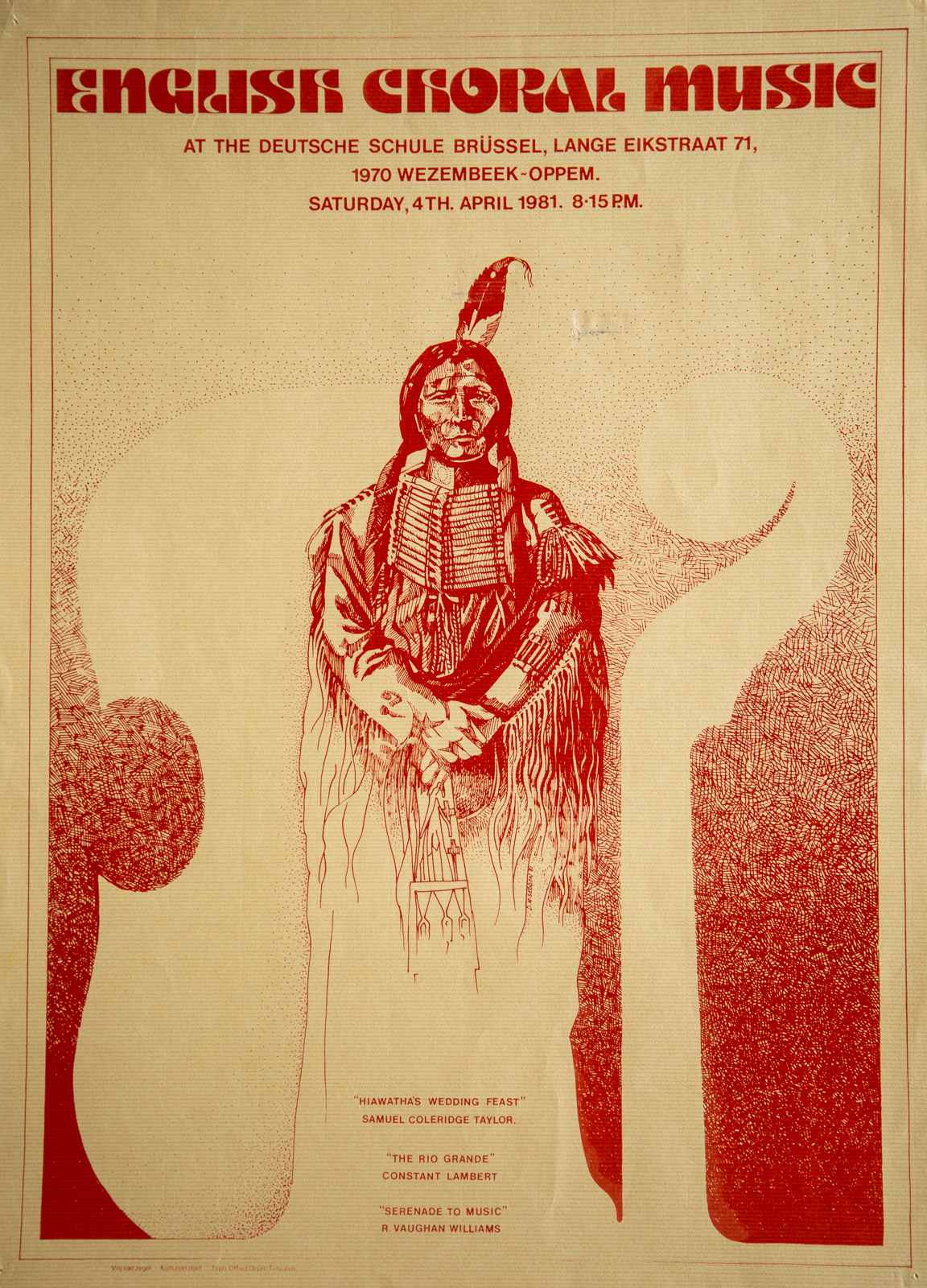 Saturday 4 April 1981 English Choral Music Deutsche Schule, Brussel
Hiawatha's Wedding Feast - Samuel Coleridge Taylor
Serenade to Music - Ralph Vaughan Williams
The Rio Grande - Constant Lambert
Swana Hardy (Soprano) Steve Collins (Piano)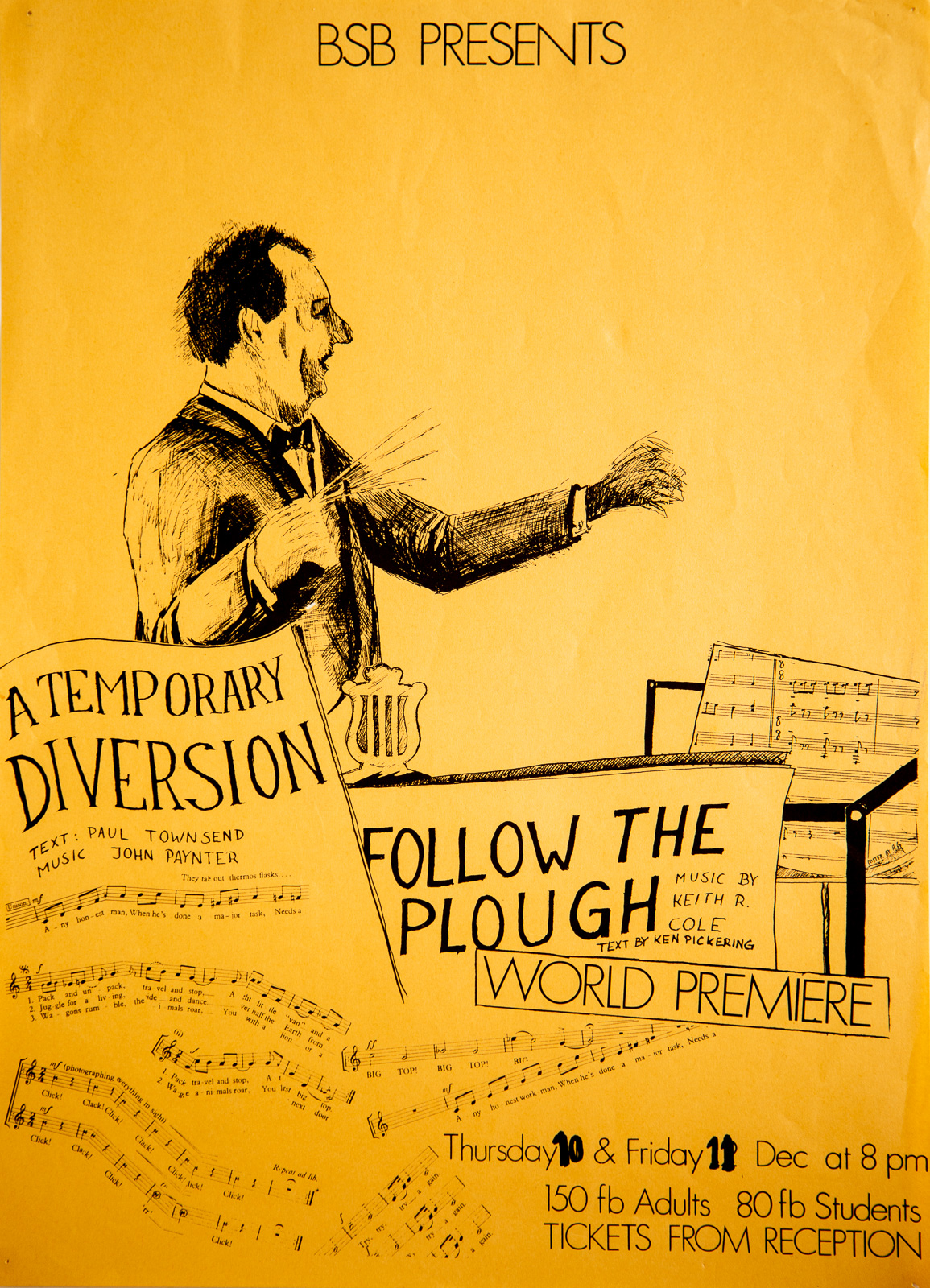 Thursday 10  Friday / 11 December 1981
For the opening of the School's new auditorium a new work 'Follow the Plough was commissioned from English composer Keith Cole (Text Ken Pickering) which was first performed at the opening ceremony in the presence of King Baudouin on 8th December
The piece was composed for the combined forces of the school & BSB chorale
Saturday 5  June 1982 Choral Concert BSB Arts Centre
Cantata BWV 150' Nach Dir, Herr, Verlanget Mich J. S. Bach
Veni Creator Spiritus Carl Orff
Mass in D Minor 'The Nelson' Josef Haydn
Wendy Fearn (Soprano) Gillian Covel (Mezzo Soprano) Tom Cunningham (Tenor) Malcolm Goldring (Bass)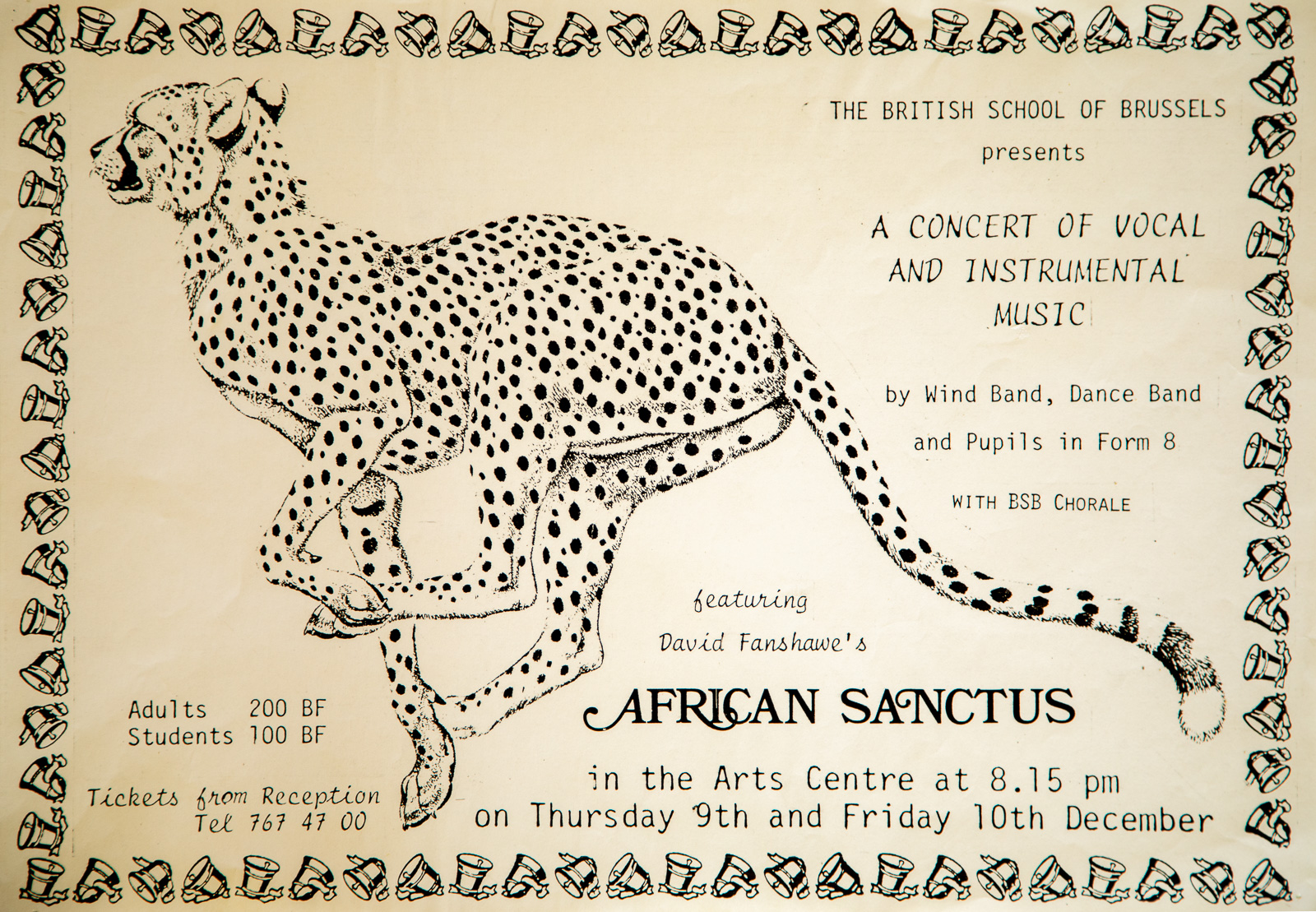 Thursday 10  Friday / 11 December 1981
A Concert of Vocal & Instrumental Music including
African Sanctus - David Fanshawe
Blanche Gerard (Soprano) Steve Collins (Piano)
Saturday 4 June 1983 Sint Janskerk, Tervuren
The World is Charged with the Grandeur of God Arthur Bliss
Requiem - W. A. Mozart
Alison Cunningham(Soprano) Dina Grossberger (Alto) Tom Cunningham (Tenor) Bill Parker (Bass)